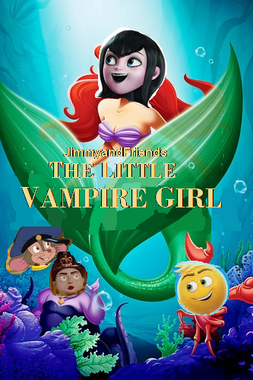 Jimmyandfriends's movie-spoofs of "The Little Mermaid" It appeared on YouTube on November 30th, 2017.
Cast:
Ariel - Mavis (Hotel Transylvania)
Prince Eric - Jonathan (Hotel Transylvania)
Flounder - Fievel Mousekewitz (An American Tail)
Sebastian - Gene (The Emoji Movie)
Scuttle - Blu (Rio)
King Triton - Dracula (Hotel Transylvania)
Ursula - Queen Victoria (The Pirates! Band of Misfits)
Flotsam and Jetsam - Mzingo and Mwoga (The Lion Guard)
Harold the Seahorse - Bodi (Rock Dog)
Grimsby - Alfred Pennyworth (The Lego Batman Movie)
Carlotta - Muriel Bagge (Courage the Cowardly Dog)
Chef Louis - Captain K'nuckles (The Marvelous Misadventures of Flapjack)
Max - Krypto the Superdog
Ursula as Vanessa - Sunset Shimmer (My Little Pony: Equestria Girls)
The Priest - Wallace (Wallace and Gromit)
Aquata - Wendy Corduroy (Gravity Falls)
Andrina - Vanellope von Schweetz (Wreck-It Ralph)
Arista - Buena Girl (Mucha Lucha)
Attina - Eep Crood (The Croods)
Adella - Sam Sparks (Cloudy with a Chance of Meatballs)
Alana - Audrey (The Lorax)
Sailors in "Fathoms Below" - Chimney Sweeps (Mary Poppins), Gobo Fraggle (Fraggle Rock) and Yukon Cornelius (Rudolph the Red-Nosed Reindeer)
Glut the Shark - The Giant Squid (Finding Dory)
Jig Dancing Sailors - Elves (Rudolph the Red-Nosed Reindeer)
Sailors during Storm - Eddie (Sing), Fraggles (Fraggle Rock), Pirates (The Pirates! Band of Misfits), Kristoff (Frozen), Nicelanders (Wreck-It Ralph), Peanuts Characters, Emotions (Inside Out) & Ants (Antz)
Fish on The Plate - The Grinch (How the Grinch Stole Christmas (2000))
Surgeon and the Ray - Bob & Larry (VeggieTales)
Newt on the Flute - Bing Bong (Inside Out)
Carp on the Harp - Kanga (Winnie the Pooh)
Plaice on the Bass - Cody Maverick (Surf's Up)
Bass on the Brass - Boog (Open Season)
Chub on the Tub - Donkey (Shrek)
Fluke that is the Duke of Soul - Louis (The Princess and the Frog)
Ray that can Play - Balto
Lings on the Strings - Oscar (Shark Tale)
Trout Rocking Out - Mike Wazowski (Monsters, Inc.)
Blackfish that Sings - Matilda (The Angry Birds Movie)
Splet and the Splat - Rango
Blowing Blowfish - Twilight (Legend of the Guardians: The Owls of Ga'Hoole)
3 Washerwoman - Misako (The Lego Ninjago Movie), Rosita (Sing) and Lucy Wilde (Despicable Me 2)
Community content is available under
CC-BY-SA
unless otherwise noted.