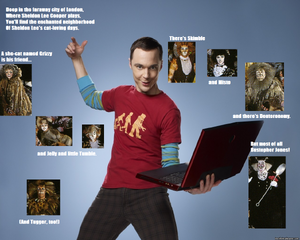 It's Cat Defender's spoof of The Many Adventures of Winnie the Pooh.
Cast
Parts
Part 1- Our Story Begins/"Bustopher Jones"
Part 2- Bustopher's Stoutness Exercise/"Up, Down, and Touch the Ground"
Part 3- "Rumbly in My Tumbly"
Part 4- Bustopher Visits Sheldon Cooper
Part 5- "A Little Black Rain Cloud"/A Failed Curry Attempt
Part 6- Lunch at Skimbleshanks's/Bustopher Gets Stuck
Part 7- Bustopher and Old Deuteronomy Meet Coricopat
Part 8- Stuck As Stuck Can Be
Part 9- Coricopat Stops By/DON'T FEED THE CAT!!
Part 10- Bustopher Will Soon be Free/"Mind Over Matter"
Part 11- "A Rather Blustery Day"
Part 12- Bustopher Visits Mistoffelees
Part 13- Tea Time With Old Deuteronomy
Part 14- Bustopher Meets Rum Tum Tugger (Part 1)
Part 15- Bustopher Meets Rum Tum Tugger (Part 2)
Part 16- "Heffalumps and Woozles"
Part 17- "The Rain Rain Rain Came Down Down Down"
Part 18- Over the Waterfall!
Part 19- The Hero Party/Mistoffelees Gives His House to Old Deuteronomy
Part 20- The Bouncing Chapter
Part 21- Skimbleshanks's Meeting
Part 22- The Plan to Unbounce Tugger is Put Into Action
Part 23- Skimbleshanks Lost in the Mist
Part 24- Tuggers Don't Like Ice Skating
Part 25- Tugger Gets Stuck/Jagular Hunting
Part 26- Tugger Is Saved/No More Bouncing?
Part 27- We say Goodbye
Part 28- End Credits 
Community content is available under
CC-BY-SA
unless otherwise noted.