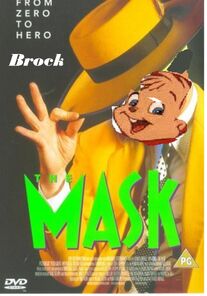 4000Movie's movie-spoof of The Mask (1994). It will appear on YouTube in the near future.
Cast:
Stanley Ipkiss - Brock (Pokemon)
The Mask - Alvin Seville (Alvin and the Chipmunks)
Tina Carlyle - Lita/Sailor Jupiter (Sailor Moon)
Milo - Scooby Doo
Milo (Mask) - Dino Mutt
Dorian - Professor Nimnul (Chip 'n Dale Rescue Rangers)
The Evil Mask aka Doria (The Mask) - Chief McBrusque  (An American Tail 3: The Treasure of Manhattan Island)
Eddy - Jasper (101 Dalmatians)
Freeze - Dr. Z (Dinosaur King)
Charilie - Ash (Pokemon)
Peggy Brand - May (Pokemon)
L.T Mitch Kellaway - Professor Oak (Pokemon)
Doyle - Professor Birch (Pokemon)
Mrs.Peenman - Lady Tremaine (Cinderella)
Niko - Giovanni (Pokemon)
Burt - Himself
Irv - Prince Derek (The Swan Princess)
Maggie - Misty (Pokemon)
Mr.Dickey - James (Pokemon)
Mayor Titon - King James (Pocahontas 2:Jounior to a New World)
Dr.Arthur Neuman - The Mayor of Townsville (The Powerpuff Girls|)
Trailer/Transcript:
Gallery:
Community content is available under
CC-BY-SA
unless otherwise noted.