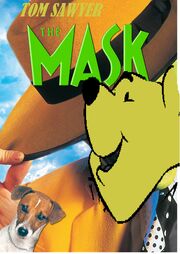 400Movies' movie-spoof of The Mask (1994). It will appear on YouTube in the near future.
Cast:
Stanley Ipkiss - Tom Sawyer (Tom Sawyer)
The Mask - Winnie the Pooh
Tina Carlyle - Becky Thatcher (Tom Sawyer)
Dorian Tyrell - Fat Cat (Chip 'n Dale Rescue Rangers)
Dorian (Mask) - Don Karnage (TaleSpin)
Milo - Himself
Charlie - Scooby Doo
Mitch Kellaway - Simba (The Lion King)
Doyle - Alex (Madagascar)
Niko - Oil Can Harry (Mighty Mouse)
Mrs Peenman - Catrina (My Little Pony)
Peggy Brant - Amy (Tom Sawyer (2000))
Mr.Dicky - Steele (Balto)
Maggie - Sawyer (Cat's Don't Dance)
Quotes:
Trailer/Transcript:
Trivia:
Gallery:
Community content is available under
CC-BY-SA
unless otherwise noted.