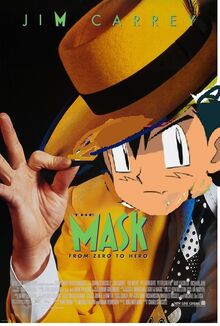 Chris1701's movie-spoof of The Mask (1994). It will appear on YouTube in the near future.
Cast:
Stanley Ipkiss - Scooby Doo
The Mask - Ash Ketchum (Pokemon)
Tina Carlyle - Amber (Scooby Doo and the Alien Invaders)
Milo - Dumbo
Milo (The Mask) - Horton (Horton Hears a Who)
Dorian - Carface (All Dogs Go to Heaven)
Dorian (The Mask) - James (Pokemon)
Eddy - Negaduck (Darkwing Duck)
Freeze - Jenner (The Secret of NIMH)
Charlie - Tom Sawyer (Tom Sawyer)
Peggy Brand - Becky Thatcher (Tom Sawyer)
Lt. Mitch Kellaway - Thomas O Malley (The Aristocats)
Doyle - Tramp (Lady and the Tramp)
Mrs. Peenman - Kismet (Chip 'n Dale Rescue Rangers)
Niko - Merlock (Ducktales The Movie)
Burt - Timon (The Lion King)
Irv - Pumbaa (The Lion King)
Maggie - Gadget Hackwrench (Chip n Dale Rescue Rangers)
Mr. Dickey - Don Karnage (TaleSpin)
Mayor Tilton - Tiger (An American Tail)
Dr. Arthur Newman - Sparky (Chip n Dale Rescue Rangers)
Quotes:
Ash Ketchum: Did you miss me?
(Ash Drinks the Orange Juice and Holes Come Out)
Ash Ketchum: I guess not!
Trailer/Transcript:
Trivia:
Gallery:
Community content is available under
CC-BY-SA
unless otherwise noted.