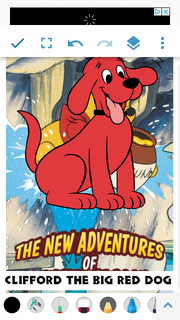 Smart Cartoon's Parody of The New Adventures of Winnie the Pooh.
Cast:
Winnie the Pooh - Clifford the Big Red Dog
Piglet - Kam (Class of 3000)
Tigger - Tinky Winky (Teletubbies)
Rabbit - Harold (Class of 3000 OC)
Eeyore - Edward the Mario Red Hippopotamus (Detention)
Owl - Uncle Max (The Lion King 1 1/2)
Kanga - Mrs. Donner (Rankin/Bass' Rudolph the Red Nosed Reindeer)
Roo - Rudolph (Rankin/Bass' Rudolph the Red Nosed Reindeer)
Gopher - Saracha Southern the Saddle Brown Clarinet (Sippuray Sumsum)
Christopher Robin - Jake Spankenheimer (Grandma Got Run Over By A Reindeer)
Kessie - Coco (Foster's Home For Imaginary Friends)
Stan and Heff - Mabaya (The Legend of Tarzan) and Scar (The Lion King)
Nasty Jack - Trenbience (Class of 3000 OC)
Ted, Pinky and Vacuum Head - Janja, Cheezi and Chungu (The Lion Guard)
Wooster - Homer the Han Purple Mammoth (Pingu)
Episode Guide
Season 1 (1988)
Dog Gotta Be in the Pictures
Friend Indeed
Hippo for a Day
Balloonatics
Find Her, Keep Her
The Human Who Would Be King
Cleanliness is Next to Impossible
The Great Honey Pot Robbery
The Purple Telli
Monkey, See?, Monkey Do Better!
Babysitter Blues
How Much is That Rabbit in the Window
Season 2 (1989)
Season 3 (1990)
Season (1991)
Gallery
Community content is available under
CC-BY-SA
unless otherwise noted.