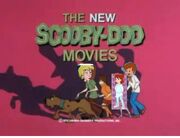 Paris2015's TV-spoof of The New Scooby Doo Movies (1972-1974). It will appear on YouTube in the near future.
Cast:
Scooby Doo - Himself
Shaggy Rogers - Wart (The Sword in the Stone)
Fred Jones - Christopher Robin (Winnie the Pooh)
Daphne Blake - Jenny Foxworth (Oliver and Company)
Velma Dinkley - ???
Josie McCoy - Molly Baker (Sailor Moon)
Melody Valentine - Sena (Tai Chi Chasers)
Valerie Brown - Hyper Blossom (The Powerpuff Girls Z)
Alan M. Mayberry - Melvin Butler (Sailor Moon)
Alexander Cabot III - Ash Ketchum (Pokemon)
Alexandra Cabot - Misty (Pokemon)
Sebastian - Artemis (Sailor Moon)
Globetrotters - ???
Jeannie - Amy Anderson (Sailor Moon)
Babu - ???
Seasons:
Trivia:
Gallery:
Community content is available under
CC-BY-SA
unless otherwise noted.