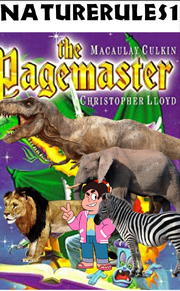 NatureRules1's movie spoof of The Pagemaster
Cast
Richard Tyler (Live-Action) - Steven Universe (SU')
Richard Tyler (Animated) - Stanley Griff (STNLY)
Alan and Claire Tyler (Richard's Parents) - Greg Universe and Garnet (SU)
Adventure - African Lion (Panthera leo)
Fantasy - African Bush Elephant (Loxodonta africana)
Horror - Plains Zebra (Equus quagga)
The Pagemaster - Bengal Tiger (Panthera tigris tigris)
Mr. Dewey (Librarian) - Nigel Thornberry (TWT)
Dr. Jekyll and Mr. Hyde - Mandark (DL) and Manboy (PPG)
Captain Ahab - ShiverJack (J&TNLP)
Moby Dick - Great White Shark (Charcchodon charchias)
Long John Silver - Gizmo (TT/TTG)
Pirates - Brother Blood, Mammoth, Slade and Doctor Light (TT/TTG)
Fairies - ???
Dragon - Tyrannosaurus rex
Neighborhood Kids - ???
Giant Squid - Giant Pacific Octopus
Hound of Baskervilles - ???
Raven - Common Raven (Corvus corax)
Parrot - Scarlet Macaw (Ara macao)
Magic Carpet - ???
Gallery