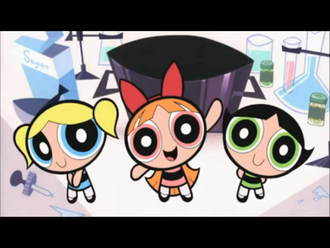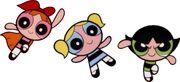 Roles
They played Alice in The Powerpuff Girls in Wonderland
They played Magic Carpet in Kermiladdin
They played The Fairies in Sleeping Ariel
They played Dorothy Gale in The Wizard of OZ (Stephen Druschke's Style)
They played Sebastian in The Little Goofy
They Made a Cameo Appearance in Pink Pig and The Pony During Be Our Guest Number
They played Timon & Pumbaa in The Foxworth Queen
They Played Karen In Kermit the Frog aka Frosty the Snowman
They Played Deb and Flo in Finding Kion
They Played 3 Shorties in Vampire Tale
They will play the extras for Jane Porter as Belle's sisters in Beauty and the Demigod.
They will play as the Squeeze Toy Alien Trio from Cartoon Story 2 (Systariansrule2024 Style)
See also:
Poses
Gallery
Trivia
Their appearances in the Stephen Squirrelsky and Friends' movie spoof travels are Miss Bianca and the Bernard, The Black Cauldron, Trent Hood, Baby (a.k.a. Dumbo), Animal Story, Robin and the Beanstalk, The Aristomice, The Little Mer-Lioness, Brisbyhontas, Jasmilina, Treasure Planet (Stephen Druschke's Animal Style), The Mouse King, Bernard Claus is Coming to Town, The Year Without A Santa Claus (Stephen Druschke's Pet Style), Fievel The Red Nosed Mouse, The Pagemaster (Nikkdisneylover8390's Style), Frog-A-Doodle, Russell and the Giant Peach, The Young Mouse of Notre Dame, Hello Kitty and the Seven Dwarfs, The Hedgehog's New Groove, The Forest Book, The Many Adventures of AiAi The Monkey, Simba (Shrek), The Great Hedgehog Detective, The Sword in the Stone, Vanellope Von Schweetz, The Train and the Boat, Toon Age, Hoodwinked!, Beauty and the Grizzly Bear, The Rescuers, The Rescuers Down Under, The Secret of NIMH, The Little Mer-Lioness 2: Return to the Sea, Skunkules, Home on The Range, Kermit's Winter Wonderland, The Little Jungle Boy, AiAi The Monkey, A Day for George, The Reindeer and the Deer, Animal Story 2, and AiAi the Monkey's Grand Adventure: The Search for Tails, A Cartoon Character's Life, Here Comes Winnie the Pooh, Animals, Inc, Simba 2, Miss Bianca and the Bernard 2: Fievel's Adventure, FernGully: The Last Rainforest, A Pooh in Central Park, The Brave Little Piglet, Kung Fu Owen, and The Thomas O'Malley Movie and will hopefully be in more.
Community content is available under
CC-BY-SA
unless otherwise noted.