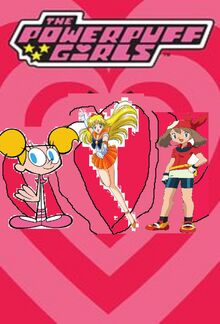 397Movies' TV-spoof of The Powerpuff Girls (1998-2005). It will appear on YouTube in the near future.
Cast:
Blossom - Mina/Sailor Venus (Sailor Moon)
Bubbles - Dee Dee (Dexter's Laboratory)
Buttercup - May (Pokemon)
Professor Utonium - Dexter's Dad (Dexter's Laboratory)
Mojo Jojo - Aldrin Klordane (Chip 'n Dale Rescue Rangers)
HIM - Mandark (Dexter's Laboratory)
Fuzzy Lumpkins - Dr. Drakken (Kim Possible)
The Mayor - Raye's Grandpa (Sailor Moon)
Miss Bellum - Jessica Rabbit (Who Framed of Roger Rabbit)
Miss Keane - Mom (Dexter's Laboratory)
Brick - Rex Owen (Dinosaur King)
Boomer - ???
Butch - Drew (Pokemon)
Major Glory -
Valhallen -
The Ameoba Boys - Giovanni, Butch, & James (Pokemon)
Mitch - ???
Seasons:
Trivia:
This the Second Show after fievel c
Dee Dee was played by Bubbles in David's Laboratory.
Both Spanish ??? AND May Both Voice of Mariana Ortiz
Blossom was In
Gallery:
Community content is available under
CC-BY-SA
unless otherwise noted.