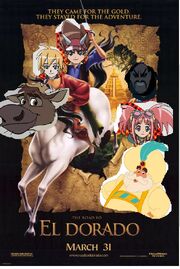 DinosaurKingRockz's movie-spoof of The Road to El Dorado (2000). It will appear on YouTube in the near future to celebrate the 15th Anniversary of DreamWorks' Animated Film.
Cast:
Miguel - Rex Owen (Dinosaur King)
Tulio - Max Taylor (Dinosaur King)
Chel - Zoe Drake (Dinosaur King)
Tzekel Kan - Shan Yu (Mulan)
Chief Tannabok - Sultan (Aladdin)
Cortes - Dr. Z (Dinosaur King)
Zaragoza - Cookie Monster (Sesame Street)
Spanish Guard - Robert Callaghan (Big Hero 6)
Altivo - Sven (Frozen)
Bibo the Armadillo - Topper (Santa Claus is Comin' to Town)
Girl in Barcelona - Mina/Sailor Venus (Sailor Moon)
2 Girls in Barcelona - Honey Lemon and Gogo Tomago (Big Hero 6)
Stone Jaguar - Sharptooth (The Land Before Time)
El Dorado Citizens - Various Characters
Trivia:
Community content is available under
CC-BY-SA
unless otherwise noted.