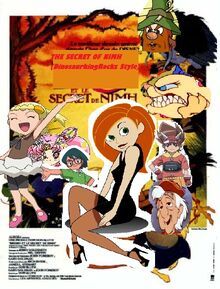 DinosaurKingRockz's movie-spoof of The Secret of NIMH (1982). It will appear on YouTube in the near future.
Cast:
Mrs. Brisby - Kim Possible
Jeremy - Max Taylor (Dinosaur King)
Nicodemus - Raye's Grandpa (Sailor Moon)
Mr. Ages - Fflewddur Fflam (The Black Cauldron)
Auntie Shrew - Granny (Looney Tunes)
The Great Owl - The Giant of Nod (Dragon Tales)
Justin - Scrooge McDuck (DuckTales)
Jenner - Merlock (DuckTales the Movie: Treasure of the Lost Lamp)
Sullivan - Dijon (DuckTales the Movie: Treasure of the Lost Lamp)
Teresa Brisby - Rini/Sailor Mini Moon (Sailor Moon)
Martin Brisby - Max (Pokemon)
Cynthia Brisby - Bonnie (Pokemon XY)
Timothy Brisby - Marucho (Bakugan Battle Brawlers)
Farmer Paul Fitzgibbons - Darien/Tuxedo Mask (Sailor Moon)
Beth Fitzgibbons - Serena/Sailor Moon
Billy Fitzgibbons - Ash Ketchum (Pokemon)
Dragon the Cat - Kismet (Chip 'n Dale Rescue Rangers)
Miss Right - Zoe Drake (Dinosaur King)
Trailer/Transcript:
Gallery:
Community content is available under
CC-BY-SA
unless otherwise noted.