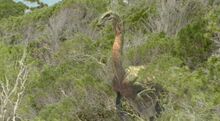 Therizinosaurus (Say it: there-IZZ-EEN-oh-soar-USS) is a genus of very large theropod dinosaurs. Therizinosaurus comprises the single species T. cheloniformis, which lived in the late Cretaceous Period (lateCampanian-early Maastrichtian stages, around 70 million years ago), and was one of the last and largest representatives of its unique group, the Therizinosauria. Fossils of this species were first discovered in Mongolia and were originally thought to belong to a turtle-like reptile (hence thespecies name, T. cheloniformis – "turtle-formed"). It is known only from a few bones, including gigantic hand claws, from which it gets its name.
Roles
Gallery
Books
Community content is available under
CC-BY-SA
unless otherwise noted.