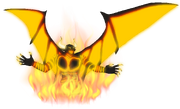 Therzona
is a fiery demon. He is also the main antagonist ahead of Zardon and Zarella in Riley's Adventures. Riley remembers what King Charleston told him, not to fight claws with claws, and tells Therzona that he forgives him for all the evil deeds he has done, much to Therzona's horror. Riley then calls Barbara, Estelia, Ursula and Olympia with four swords, which then creates light on the castle. By being made of fire, Therzona extinguishes the light. In his final words, Therzona tells Riley that the lights are too strong and curses him before he disappears completely. The lava then hardens into stone and finally ends Therzona's threat to Glades of Dreams once and for all.
He is a ???.
Voice Actors:
Quotes:
The Rise of Therzona:
[laughs menacingly] (Zardon: Uh... Are you?) Yes. I... am... Therzona. (Therzona's first words)
The Battle for the Glades of Dreams:
[scoffs] You don't have the power to defeat me! But if you ever care to try, you know where to find me. [laughing maniacally]
Ah, King Charleston. You've managed to escape my little scheme. Too bad the same can't be said for Riley's friends.
Okamo, NOW!!
Now you are defenseless.
You don't have the power to destroy me, Riley.
THESE LIGHTS ARE TOO STRONG!! IMPOSSIBLE!! CURSE YOU, RILEY!!!!! (Therzona's last words, before he vanishes)
Gallery:
Community content is available under
CC-BY-SA
unless otherwise noted.