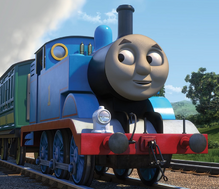 Thomas is a small blue tank engine. He has come to Sodor in October 1981 as a station pilot at Vicarstown until 1993, at which time he has been transferred to Wellsworth following an incident with some trucks. Later that year, after rescuing James from his crash, he has been given charge of the Knapford-Ffarquhar branch line and two coaches, who he names Annie and Clarabel. He is the main protagonist of the television series, and he is also the uncle of Janice Kawaye's character, Jenny Wakeman.
He plays Aladdin in Thomaladdin He is an arabian theif
He is an old man
He is a Macaw
He is a Mouse.
He is a Green Monster
he is a monkey
He is a spotty Puppy
He is a Gnome
He is a cricket
He is a Prince
He is a limbless hero
He is a hungry engine
He is a ghost
He plays Aladdin in Thomaladdin
He Is A Lion
He is a lizard
Ten cents ( TUGS )
Pollandball ( Pollandball)
He plays Blu in Rio (Paul Young and Paul Young 65's Style) and More!
He is a parrot.
He is a mouse.
He is Anakin Skywalker's son, and a used to be farm boy, but now a Jedi knight.
He plays Harry Potter in the Harry Potter series
He is a Gryffindor wizard
He played Pumbaa in The Forest King (The Lion King)
He is a warthog
He played Anthony in The Wiggles Movie (John Clancy's Style) and The Wiggles Movie (JamesimusPrime2798)
He is the blue wiggle
He played Littlefoot in The Land Before Time (JamesimusPrime2798)
He is the small longneck dinosaur
He played Tillie in The Little Tank Engine That Could (The Little Engine That Could)
He is the blue shunter.
He is a dragon
He is a shunter later dream hauler
Portrayals
Relationship
Home: Island of Sodor
Train Built: Steamie
Personality: Cheeky, goofy, funny, kind, friendly, clever, determined, honest, brave, smart, cute, wise, stubborn (sometimes), naughty (sometimes)
Appearance:

Blue

tank engine with 6 wheels, black smokebox,

red

chassis, black buffers,

grey

face,

yellow

portholes,

red

lines around his sides, coal bunker and across his boiler, number 1 on both sides of his tanks, white headlamp and tail lamp.
Occupation: The Fat Controller's number 1 engine, Percy's best friend, shunter, and branch line engine.
Goal: To be a really useful engine
Numbers: 1
Gender: Male
Alignment: Good
Allies: Edward the Blue Engine (uncle), Henry the Green Engine (uncle), Gordon the Big Engine (father), James the Red Engine (cousin), Percy the Small Engine (best friend), Toby the Tram Engine (grandfather), Duck the Great Western Engine, Donald and Douglas the Scottish Twin Engines, Oliver the Great Western Engine, Emily the Beautiful Engine (girlfriend), Murdoch the Strong Engine (uncle), Arthur the LMS Tank Engine (brother), Spencer the Silver Engine (sometimes), Mavis the Quarry Diesel, BoCo the Metropolitan Vickers Diesel, Bill and Ben the Saddle Tank Engine Twins (When they are Nice), Fergus the Traction Engine, Annie and Clarabel, Henrietta, Victoria, Helena, Old Slow Coach, Stanley, Stepney (Brother in law), Bertie, Terence the Tractor, Butch the Tow Truck, Trevor the Traction Engine, Caroline, Harold, Skarloey, Rheneas, Sir Handel, Peter Sam, Rusty, Duncan, Duke, Freddie, Mighty Mac, Luke, Bertram, Ivo Hugh, Molly the Yellow Engine (mother), Rosie (good friend), Lady (beautiful magical friend), Belle (beautiful friend), Millie, Stephen, Bash and Dash the Logging Locos, Ferdinand the Logging Loco, Hiro (grandfather), Flynn, Connor, Caitlin, Stafford, Winston the Red Car, Victor, Kevin the Crane, Dennis, Charlie the Purple Engine, Billy, Salty, Porter, Harvey, Ashima, Rajiv, Yong Bao, Carlos, Raul, Shane, Frieda, Axel, Gina, Etienne, Ivan, Elizabeth (sometimes), Cranky (sometimes), Jack, Alfie, Oliver the Excavator, Kelly, Ned, Buster the Steam Roller, Nelson, Isobella, Den, Dart, Paxton, Norman, Sidney, Neville, Captain, Owen, Merrick, Hank, Flora, Pip and Emma, Jinty and Pug, Green Arrow, Iron Duke, Wilbert the Forest Engine, City of Truro, Flying Scotsman, Mallard (Thomas and Friends), Duchess of Hamilton, Stephenson's Rocket, Boxhill (Thomas and Friends), Albert (Thomas and Friends), Elsie (boxcar), Hannah*, Timothy, Marion, Samson (Thomas and Friends), Gator, Merlin, Ryan, Skiff, Rex, Bert, Mike, Flying Scotsman, Philip, Hugo, Bradford, Carly, Theo, Lexi, Hurricane, Frankie, Nia, Rebecca, Ace, Dexter, Hong-Mei, Noor Jehan, Tamika, An An and Yin-Long, Aubrey and Aiden, Lei, Isla, Beau, Gabriela, Lorenzo, Gustavo, Beppe, Darcy, Brenda, Ester and Stefano.
Enemies: Devious Diesel, 'Arry and Bert, Daisy (Currently), Diesel 10, Splatter and Dodge, Stanley (formerly), Spencer (sometimes), Elizabeth (sometimes), Cranky (sometimes), Max and Monty (sometimes), George, Bulgy, Den (only in Day of the Diesels), Dart (only in Day of the Diesels), Norman (only in day of the Diesels), Paxton (only in Day of the Diesels), D261, Ashima (formerly), The Horrid Lorries, S. C. Ruffey, Troublesome Trucks, Sailor John, Sir Topham Hatt (upon being scolded for causing too much trouble)
Likes: Being a Really Useful Engine, being the Fat Controller's No. 1 engine, being nice to his friends, Annie and Clarabel, his friends, Ashima, people and engines who are friendly to him, Rosie, working on his branch line, racing, playing tricks on the other engines, blaming engines and people (sometimes), shunting trucks, Spencer being nice to him and his friends, saying that it's not his fault (always), being happy, being angry (sometimes), being rude to engines and people (sometimes), being sad (sometimes), Timothy, Gator.
Dislikes: Causing confusion and delay, being late, Diesel 10, people and engines who are mean to him, Devious Diesel, his snowplough (sometimes), danger, not working on his branch line, being banished from his branch line, Rosie annoying him, Billy calling him a bossy engine, other engines pulling Annie and Clarabel (sometimes), Sailor John, Vinnie, anyone furious at him, Cranky being cranky, Spencer being rude to him and his friends, the other engines being sad.
Powers and abilities: Fire, steam, strength and speed.
Inspiration
Counterparts (Hero Version) (Male Version)
Ten Cents (TUGS/Salty's Lighthouse)
Theodore (Theodore Tugboat)
Wilson (Chuggington)
RS Mr. Conductor or GC Mr. Conductor (Shining Time Station)
Mario, Luigi, Yoshi, or Toad (Super Mario Bros.)
David (The Upside Down Show/The Umbilical Brothers)
Bozz (Cubeez)
Greg (The Wiggles)
Donkey Kong (Donkey Kong Country)
Sonic the Hedgehog, Miles "Tails" Prower, Knuckles the Echidna, Rotor the Walrus, Lucas, or Griff (Sonic the Hedgehog; Thomas and Sonic are both blue)
Orson Pig (Garfield and Friends)
Sawtooth (Wacky Races)
Buster Bunny (Tiny Toon Adventures; both are blue)
Bugs Bunny (Looney Tunes)
Yakko Warner (Animaniacs)
The Brain (Pinky and the Brain)
Jerry Mouse (Tom and Jerry)
The Cat in the Hat (Dr. Seuss/The Wubbulous World of Dr. Seuss)
Perfect Peter (Horrid Henry)
Arthur Read or Buster Baxter (Arthur)
SpongeBob SquarePants (SpongeBob SquarePants)
Chuckie Finster or Tommy Pickles (Rugrats)
Arnold (Hey Arnold)
Firey (Battle for Dream Island)
Doug Funnie (Doug)
Henry (Kablam!)
Rayman (Rayman)
Ato (Canimals)
Stanley (Pat & Stanley)
Tom (Talking Friends)
Meaty (Adventure for Queen Island)
Bernard Bear (Bernard Bear)
Frylock, Master Shake, Meatwad, and Ignignokt (Aqua Teen Hunger Force)
Chip, Handy Pandy or Rollo the Clown (The Little Engine That Could)
Fox McCloud (Star Fox)
Rocky (Chicken Run)
Gromit or Wallace (Wallace and Gromit)
James P. "Sulley" Sullivan or Mike Wazowski (Monsters, Inc./Monsters University)
Aladdin (Aladdin)
Robin Hood (Robin Hood)
Kermit the Frog or Gonzo the Great (The Muppet Show/Kermit's Swamp Years)
Diggs the Backhoe Loader (Construction Site)
Zorro (The Legend Of Zorro)
Link (The Legend of Zelda)
Prince Adam or Lumiere (Beauty and the Beast)
Tarzan (Tarzan)
Robert Philip (Enchanted)
Ronald Miller (Can't Buy Me Love, both are handsome)
Jack Dawson (Titanic)
Wade Walker (Cry-Baby (1990))
Edward Cullen (Twilight Saga)
Prince Philip (Sleeping Beauty (1959), Maleficent (2014) and Maleficent: Mistress of Evil (2019))
Flynn Rider (Tangled)
Thomas Bailey (Made of Honor, both share the same name)
Christopher Wooden (Happy Together (1989))
Captain Von Trapp (The Sound Of Music)
Joe Black/Death (Meet Joe Black)
Alex Whitman (Fools Rush In (1997))
Robert Angier (The Prestige)
Ethan Hunt (Mission: Impossible)
John Wick (John Wick)
Neo (The Matrix)
Tony Stark/Iron Man, Steve Rogers/Captain America or Scott Lang/Ant-Man (Marvel)
Superman or Flash (DC)
Dipper Pines (Gravity Falls)
Oscar Fishtooth (Fish Hooks)
Raoul (The Phantom Of The Opera)
Marvin (Marvin the Tap Dancing Horse)
Samson (Super Samson Herms)
Frankie Valli (The Jersey Boys)
Link Larden (Hairspray)
Danny Zuko (Grease)
Casey Jr. (The Reluctant Dragon/Dumo/Casey Jr and Friends, both trains)
Timothy Q. Mouse (Dumbo, both begin with the letter "T") 
Roland Rat (Roland Rat)
Sooty (The Sooty Show)
Bob the Tomato (Veggietales)
Zidgel (3-2-1 Penguins)
Adult Simba or Young Simba (The Lion King)
Baloo or Mowgli (The Jungle Book)
Baloo or Wildcat (Talespin)
Captain Phoebus or Quasimodo (The Hunchback Of Notre Dame)
Mr. J. Thaddeus Toad (The Adventures of Ichabod and Mr. Toad)
Kristoff (Frozen)
Basil (The Great Mouse Detective)
Charlie (All Dogs go to Heaven)
Austin Powers (Austin Powers)
Homer Simpson or Bart Simpson (The Simpsons)
Peter Griffin, Chris Griffin or Brian Griffin (Family Guy)
Cleveland Brown (The Cleveland Show)
Tishka (Train Tishka)
Sebastian or Prince Eric (The Little Mermaid)
Remy (Ratatouille)
Woody or Buzz Lightyear (Toy Story 1, 2, 3 & 4)
Buzz Lightyear (Buzz Lightyear of Star Command)
Flik (A Bug's Life)
Lightning McQueen (Cars 1, 2 & 3)
Matt (CyberChase)
Bobby Hill (King of the Hill)
Young Stan Smith or Stan Smith (American Dad)
Mario Hugo, Johnin John Harry, Tulio Triviño, Policarp Avendañe or John Charles Bodoque (31 Minutes)
Spike or Discord (My Little Pony: Friendship is Magic)
Sunil Nevla (Littlest Pet Shop (2012); both are blue)
Captain Crandell (Teamo Supremo)
Timmy Turner, Cosmo or Baby Poof (The Fairly Oddparents)
Danny Fenton (Danny Phantom)
Dudley Puppy (T.U.F.F. Puppy)
Sheen Estevez or Jimmy Neutron (Jimmy Neutron)
Darwin (The Wild Thornberrys)
Ron Stoppable (Kim Possible)
Boomer, Brick or Donny (The Powerpuff Girls)
Dexter (Dexter's Laboratory)
Crash Bandicoot (Crash Bandicoot)
Raimundo Pedrosa (Xiaolin Showdown)
Meat Boy (Super Meat Boy)
Robin (Teen Titans)
Theodore Jasper "TJ" Detweiller (Recess)
Gordy Rhinehart (Angela Anaconda)
Gumball Watterson (The Amazing World of Gumball; both are blue)
Connor (Cubix: Robots For Everyone)
Marlin (Finding Nemo)
Stan Marsh (South Park)
Fred Jones or Shaggy Rogers (Scooby Doo)
Phineas Flynn or Ferb Fletcher (Phineas and Ferb)
P.J. Duncan (Good Luck Charlie)
Freddie Benson (iCarly)
Shawn (Coilbook)
Ding Don (Ding Don)
Donkey, Shrek, or Pinocchio (Shrek)
Skipper or Alex the Lion (Madagascar)
Po the Panda (Kung Fu Panda)
Earthworm Jim (Earthworm Jim)
Rocko (Rocko's Modern Life)
Doki (Doki)
Lazlo (Camp Lazlo)
Mac or Bloo (Foster's Home for Imaginary Friends)
Fanboy (Fanboy & Chum Chum)
Numbuh 1 (Codename: Kids Next Door)
Noddy (Noddy Series)
Postman Pat (Postman Pat)
Fireman Sam (Fireman Sam)
Lofty (Bob the Builder, both are blue)
Leonardo (Teenage Mutant Ninja Turtles)
Mordecai (Regular Show)
Sparkster (Rocket Knight Adventures)
Pikachu, Piplup, Turtwig, Squirtle or Buizel (Pokemon)
Kirby, Tuff or Knuckle Joe (Kirby)
Croc (Croc)
Pac-Man (Pac-Man)
Ax-Battler (Golden Axe)
Centurion (Altered Beast)
Axel Stone (Streets of Rage)
Ryu (Street Fighter)
Jin Kazama (Tekken)
Starfy (The Legendary Starfy)
Hobbes (Calvin & Hobbes)
Pinocchio (Pinocchio and the Emperor of the Night)
Stanley (A Troll in Central Park)
Mickey Mouse, Donald Duck or Goofy (Mickey Mouse)
Christopher Robin, Winnie the Pooh, Piglet, Rabbit or Tigger (Winnie the Pooh)
Jiminy Cricket or Pinocchio (Pinocchio/Fun and Fancy Free/Disney's Villains' Revenge)
Huckle Cat Lowly Worm (The Busy World of Richard Scarry/Hurray for Huckle)
John Smith (Pocahontas)
Alvin or Simon (Alvin and the Chipmunks, the latter wears blue)
Fone Bone (Bone)
Mushu or Captain Shang (Mulan)
Pig (Pearls Before Swine)
Jay Jay (Jay Jay the Jet Plane, both are blue)
Satchel (Get Fuzzy)
Michael Banks (Mary Poppins)
Br'er Rabbit (Song of the South)
Charlie (Bedknobs & Broomsticks)
Pete (Pete's Dragon)
Toaster (The Brave Little Toaster)
Little Toot (Melody Time)
Pedro (Saludos Amigos)
Albert Rogelie (Titielenaders)
Huw Finger (Huw & Dirk)
Roger Rabbit (Who Framed Roger Rabbit)
Peter Pan or John (Peter Pan)
Pongo (101 Dalmatians)
Stripes or Tucker (Racing Stripes)
Woody Woodpecker (Woody Woodpecker)
Felix the Cat (Felix the Cat)
Peter or Willie the Whale (Make Mine Music)
Fix-it Felix Jr. (Wreck-it Ralph)
Flint Lockwood (Cloudy with a Chance of Meatballs)
Lucas (Earthbound/Mother)
Young Tod or Young Copper (The Fox & The Hound)
Young Thumper or Young Bambi (Bambi)
Spyro the Dragon (Spyro the Dragon/Skylanders)
Diddy Kong (Diddy Kong Racing)
Pedro (Saludos Amigos)
Big Bird, Ernie or Grover (Sesame Street)
Pikachu (Super Smash Bros.)
Jowee (Drawn to Life)
Dorian (Eco Creatures: Save the Forest)
Mega Man (Mega Man)
Kevin (Captain N: The Game Master)
Marty McFly (Back to the Future)
Kevin McCallister or Peter McCallister (Home Alone 1 & 2)
Captain Olimar (Pikmin)
Stitch (Lilo & Stitch)
Takua or Jaller (Bionicle)
Takua (Mata Nui Online/Takua, Jaller & Hahli Productions)
Trent (Total Drama)
Luke Skywalker (Star Wars)
RJ (Over the Hedge)
Skipper (Skipper & Skeeto)
Frank (3 Friends and Jerry)
Jack Frost (Rise of the Guardians)
Goku (Dragon Ball Z)
Finn (Adventure Time)
Bamm-Bamm Rubble, Fred Flintstone or Barney Rubble (The Flintstones)
Veemon (Digimon)
Ord (Dragon Tales, both are blue)
Jason Lee Scott (Mighty Morphin Power Rangers, Thomas and Jason are both main protagonist)
Gnomeo (Gnomeo and Juliet)
Roddy (Flushed Away)
Turbo (Turbo (2013))
Dusty Crophopper (Planes)
Rodney Copperbottom (Robots)
Manwell (Fawlty Towers)
Rodney or Del Boy (Only Fools and Horses)
Toad (The Wind in the Willows)
Pom (Babar)
Pingu (Pingu)
Rupert Bear (Rupert)
Owl, Cat, Father Bear and Little Bear (Little Bear)
Mister Maker (Mister Maker)
Peter Rabbit (The Tale of Peter Rabbit/Peter Rabbit; both young and cheeky)
Emmet (The LEGO Movie)
Mr. Peabody (Mr. Peabody & Sherman (2014))
Niko Bellic (Grand Theft Auto IV)
Nigel Thornberry (The Wild Thornberrys)
Henry Hugglemonster (Henry Hugglemonster)
Franklin (Franklin the Turtle)
Derek (Bobby's World)
Surly (The Nut Job (2014))
Willy the Bee (Maya the Bee/Movie; both are cheeky and best friend to Rosie and Maya)
Allstar Seaworthy (The Snorks; both are friendly and girlfriend to Rosie and Casey Kelp)
Andy Barclay (Child's Play)
Toothless (How To Train Your Dragon 2)
Bowen Tyler (The Land That Time Forgot)
Nick Wilde (Zootopia (2016))
Shaun (Shaun the Sheep)
Joseph (Joseph: King of Dream (2000))all)
Edward Scissorhands (Edward Scissorhands, both are the main characters)
Prince Charming (Cinderella)
Captain Jack Sparrow (Pirates of the Caribbean)
Morton Schmidt or Greg Jenko (21 Jump Street and 22 Jump Street)
Bud Davis (Urban Cowboy (1980))
Stanley Ipkiss (The Mask (1994))
Voice Actors
Gallery
Main Article: Thomas the Tank Engine/Gallery
Community content is available under
CC-BY-SA
unless otherwise noted.