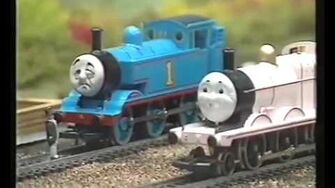 One lovely morning, Thomas the tanked up engine was crawling into the engine shed. "Beep beep" Whiff the other engines, they were pleased to see Thomas.
"Keep the ruddy noise down," said Thomas. "Can't you see I've got a hangover? my head feels like a gymnast bum. It's splitting."
"And a lot more spotty," added Gordon. "Are you coming into the station Thomas, to pick up some more jolly folk from the town?"
"Stuff that" Said Thomas. "I need a Drink!" "Hellfire, I'm halluc- Hallucinating again" He said with Great Difficulty. "Fill us up, Mr. Water Tank! "Brrrrr" Said Thomas, without moving his lips.
"That's your share Thomas" Said the Water tank. "Unless you don't mind taking Gordon's"
"Ok" said Thomas
"But easy on the bit of lemon. Right, I'm off to the sidings." Thomas looked forward to his daily trips to the sidings, even if it was a ruddy silly name for a pub. As Thomas Pulled up at the Sidings, he saw Jeremy, The Pink Engine. "Puff, Puff!" Said Jeremy. "There's no need to advertise," said Thomas.
Just then, the fat controller walked on to the tracks.
"What's all this loco-motion going on?" He said, grumpily. "Mind your own business, ya fat controller!" Said Thomas. And before you could say "The Train Now Standing"," Thomas shot forward, running over The Fat Controller's finger, killing him instantly. Well, he was picking his nose at the time.
Just then, Thomas spotted Anne and Clarabel, coming down the track. "Cool! Look at the tender behind on that!" Said Thomas, scratching his guards van. "Mmm..." Said Jeremy, "I don't fancy mine much."
"Ey up, girls!" Leered Thomas. "Wanna come back to the buffee car for a few beves or what?"
look out thomas! Look out!
"You can pack that larc up STRAIGHT away!" Said Jeremy, and threw a bucket of water over them. uh oh! Here comes Pc Pullman. What's going on here thomas? Have you been drinking? "No sir" said thomas And promptly threw up.
And so, it all turned out well in the end. Jeremy went off to become a hairdresser, and Thomas was put back on the wagon, and sent straight to the Betty Ford Scrapyard
Community content is available under
CC-BY-SA
unless otherwise noted.