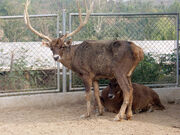 Thorold's deer (Cervus albirostris) is one of the largest deer species, with a shoulder height around 115 to 140 cm (45 to 55 in). Males, which typically weigh from 180 to 230 kg (400 to 510 lb), are significantly larger than females, at 90 to 160 kg (200 to 350 lb) in weight. The hair is coarse and grey-brown over most of the body, fading to yellowish buff on the underparts, with a distinct reddish-brown patch on the rump, and a ridge of darker hair running down the spine. During winter, the coat is paler, and about twice as thick as during the summer, being thicker even that of a moose. The head is darker than the rest of the body, especially in males, and contrasts with pure white markings on the lips, around the nose, and the throat just below the chin.
Community content is available under
CC-BY-SA
unless otherwise noted.