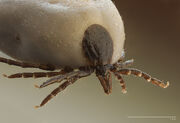 Ticks are small arachnids, typically 3 to 5 mm long, part of the order Parasitiformes. Along with mites, they constitute the subclass Acari. Ticks are ectoparasites (external parasites), living by feeding on the blood of mammals, birds, and sometimes reptiles and amphibians. Ticks had evolved by the Cretaceous period, the most common form of fossilisation being immersed in amber. Ticks are widely distributed around the world, especially in warm, humid climates.
Gallery
Community content is available under
CC-BY-SA
unless otherwise noted.