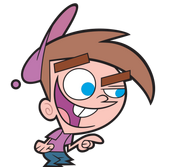 Timmy Turner is the main character from The Fairly OddParents And That Thinks That Magic Is Real And Those Things.
He is a two Tailed Fox
He is a boy
Timmy Turner played John Darling in Jason Pan
He is the oldest son of the Darling family
He is a prince and Ariel's love interest
Timmy Turner played Young Hercules in Jascules
He is a kid
He is a young Santa Claus
He is a mouse
Timmy Turner played Andrew Williams in Timmy in New York
He is Mrs. Leary's best friend and foster son
Timmy Turner played Skippy Rabbit in Ryder Hood
He is a rabbit
He is a lion
He is a kitten
He is a dwarf
He is a deer
Timmy Turner played Pete in Timmy's Bird
He is an orphan
He is friendoff a Jedi
He is a Blue Engine
He is a dog
He is a monster
He is the leader of Mystery Inc.
He is a red-nosed reindeer
He is a dwarf
Timmy Turner played Tiger Lily in Rintoo Pan
He is an Indian princess
Timmy Turner played Fiona in Kai-Lan series
He is Kai-Lan's love interest and later boyfriend
Timmy Turner played Ariel in the Little Merkid 
He is a mermaid
Timmy Turner played Megara in Kai-Lancules
He is Hades' ex-minion and Hercules' love interest
Timmy Turner played Jaq in Annierella
He is a puppet
He is a Fish
He Is A Boy Who Went To A Place Called Big City (Southernamerica) And Does Adventures With Friends.
Actor
Voice Actress
Gallery
Community content is available under
CC-BY-SA
unless otherwise noted.