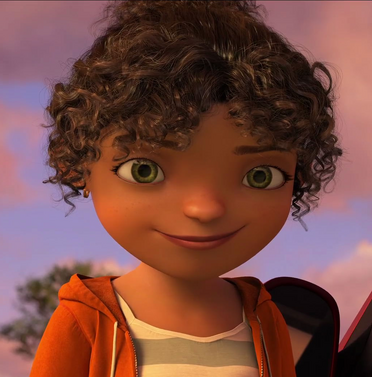 Gratuity "Tip" Tucci is the female character from Home. She is the daughter of Lucy Tucci and the friend of Oh and also the owner of Pig. She belongs The Justice Team on her first adventure.
She Played Pocahontas In Tuccihontas And Tuccihontas 2 Journey To A New World (CoolZDanet5th Style)
She Played Marina In Hiccup Legend Of The Seven Seas (Dragon Rockz Style)
She Played Stella in Over The Animated Hedge (TheTrueDisneyKing Style)
She Played Jasmine in Johnladdin
She Played Young Faline in Russellambi
She Played Hercules in Tipcules
She Played Chel in The Road To El Dorado (Princess Rapunzel Animal Style)
Gallery
Relatives
Best Friends - Riley Andersen and Hiro Hamada
Boyfriend - Miguel Rivera
Sister in Law - Penny Forrester
Brother in Law - Wasabi
Babysitter - Cass Hamada and Jill Andersen
Mother-Lucy Tucci
Father-Deceased
Community content is available under
CC-BY-SA
unless otherwise noted.