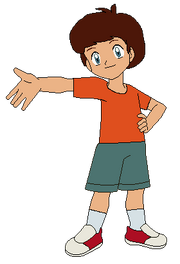 Tommy is a character of the television show, Cuddle Heroes. He appears in Rosemary Hills, making his debut in Life's A Beach.
Voice Actors:
Zach Tyler Eisen - English
??? - Japanese
Appearance:
Slender, fair skin, brown hair, blue eyes, orange shirt, blue jeans, white socks and red sneakers. His swimsuit appearance is aqua swimming trunks.
Personality:
He is known for playful, clumsy, and loving.
Gallery