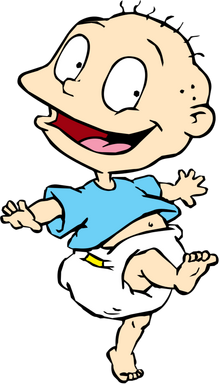 Tommy Pickles is a main protagonist from Rugrats and less famous brother of Tommy Dickles. However, his first appearance was in The 1956 Tom and Jerry Short "Busy Buddies". He Is Also Dil's Older Brother And He Joins The Justice Team On His First Adventure Along With Dil And His Friends (Except Angelica Pickles, of course), He is also married to D.W. Read.
Bio
Allies: Chuckie Finster (best friend), Kimi Finster (girlfriend), Phil DeVille, Lil DeVille, Angelica Pickles (cousin, sometimes but formely), Susie Carmichael, Dil Pickles (brother), Spike (pet), Stu Pickles (father) Didi Pickles (mother), Charlotte Pickles (aunt), Grandpa Lou Pickles (paternal grandfather)
Enemies: Angelica Pickles (formely), Coco LaBouche, Jean-Claude
Likes: Playing with his friends, being brave, leaders of the babies, being with Chuckie, Drinking baby-bottle
Dislikes: Losing his toys, losing Spike, Chuckie getting angry, Talking to adults
Newest Best Friend: D.W. Read (Arthur)
First Cartoon Network Appearance: Busy Buddies (1956)
First Nickelodeon Appearance: Tommy's First Birthday (1991)
Last Appearance: The Golden Boys (2007)
Tommy Pickles Played Tenderheart Bear in Rugrats/The Care Bears Movie
Tommy Pickles Played Baby Kermit in Kids World Babies
Tommy Pickles Played Kermit The Frog in The Kids World Show
Tommy Pickles Played Spanky McFarland in The Little Rugrats (The Little Rascals)
Tommy Pickles Played Spanky in The Little Rugrats Save The Day (The Little Rascals Save The Day)
Tommy Pickles Played Caillou in Tommy (Caillou)
He is a mouse
He is a puppet
He is a mouse
Tommy Pickles Played Tipo in The 007's New Groove (BeautifulandWonderful Style):
He is a little yellow creature.
He is a black and white cat.
Gallery:
Tommy's Animal Counterparts
Hippopotamus
Bear
Spouse:
Children:
Dil Pickles (son)
Kate Read (daughter)
Tyler (young son)
Gallery of Tommy and his girlfriend D.W.