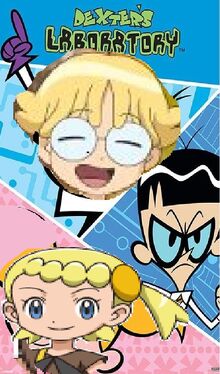 1701Movies' TV spoof of Dexter's Laboratory (1996-2003). It will appear on YouTube in the near future to celebrate the 20th anniversary.
Cast:
Dexter - Tori (Tai Chi Chasers)
Dee Dee - Bonnie (Pokemon)
Mandark - Himself
Dexter's Dad - Ash Ketchum (Pokemon)
Mom - Serena (Pokemon)
Major Glory - Shaggy Rogers (Scooby Doo)
Valhallen - Fred Jones (Scooby Doo)
The Infragible Krunk - Scooby Doo
Monkey - Chomp (Dinosaur King)
Agent Honeydew - Zoe Drake (Dinosaur King)
Commander - Commander Nebula (Buzz Lightyear of Star Command)
Mee Mee - Sena (Tai Chi Chaser)
Lee Lee - Brittany Miller (Alvin and the Chipmunks
Dynomutt - Pongo (101 Dalmatians (1961))
Seasons:
Movie:
Short Films:
Segments:
Trivia:
Scooby Doo, Fred Jones, and the Infragible Krunk were voiced by Frank Welker.
This series will be dedicated to Christine Cavanaugh (1963-2014).
This is the ??? TV spoof of 1701Movies.
Gallery:
Community content is available under
CC-BY-SA
unless otherwise noted.