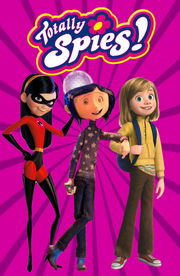 a tv spoof of Totally Spies!.
Cast:
Sam - Coraline
Alex - Violet Parr (The Incredibles)
Clover - Riley Andersen (Inside Out)
Jerry - Chief Quimby (Inspector Gadget, 1999)
David - Eggs (The Boxtrolls)
Mandy - Camille Le Haut (Ballerina/Leap!)
Dominique - Greenwood (Next Gen)
Caitlin - Zarina (The Pirate Fairy)
Terence Lewis - Veger (Jak 3)
Britney - Addie McAllister (The Emoji Movie)
Dean - Jin (Abominable)
Tim Scan - Roland (Strange Magic)
Helga Von Guggen - Carol Miller (Futurama)
Boogie Gus - Max Mordon (Tad The Lost Explorer)
Myrna Beesbottom - Margaux Needler (The Addams Family, 2019)
Felicity Fences - Adagio Dazzle (My Little Pony Equestrial Girls: Rainbow Rocks)
Gallery:
Community content is available under
CC-BY-SA
unless otherwise noted.