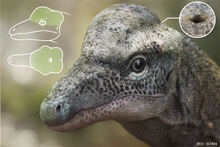 Triopticus is a genus of archosauriform reptile from the Late Triassic of Texas, United States. It contains a single species, Triopticus primus, described in 2016 by Stocker et al. It has an unusually domed head reminiscent of the later pachycephalosaurian dinosaurs in an example of convergent evolution.
Community content is available under
CC-BY-SA
unless otherwise noted.