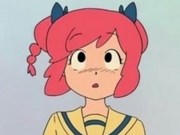 Tsumiki Domen is a high school freshman and the main protagonist of Senpai Club.
Tsumiki has pink hair that she wears in two braids tied back by dark indigo ribbons. Her hair color and style is similar to Madoka Kaname's from Puella Magi Madoka Magica. She has cyan eyes.
She wears the typical school uniform but has also been shown to wear other outfits - in Hero Senpai's fantasy, she wears a long light blue dress with a bow in the back, and two light blue ribbons in her hair. On her date with Hero Senpai, she wears a blue skirt with suspenders, a collared blue-and-white striped shirt, and a single white bow on top of her head. To sleep, she wears a light blue shirt with a fried egg on it and white shorts.