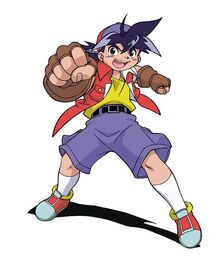 Tyson Granger is the main character of the manga/anime, Beyblade. He is the owner of the bit-beast, Dragoon and his beyblading team is the Bladebrakers, with Max Tate, Kenny, Kai Hiwatari and Ray Kon. Later, his school classmate Hilary Tachibana joins him, and soon he is joined by a youngster named Daichi Sumeragi.
He is the younger brother of Hiro Granger, and son of traveling archaeologist, Bruce Granger. He is seen training for kendo in the dojo with his grandfather Ryu Granger.
Like most teenage boys around his age, Tyson is a very big eater and is often seen stuffing his face with food.
Gallery
Community content is available under
CC-BY-SA
unless otherwise noted.