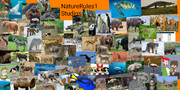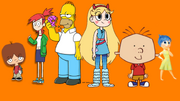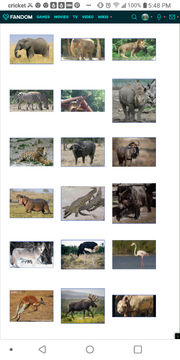 Basic Information
Hello, I'm Gaven, I am a huge animal fan, I started to love animals, especially when I was little and loved animal movies like The Lion King, Ice Age, Rio, Sing , Tarzan, The Jungle Book, Shark Tale, Madagascar, Rugrats Go Wild!, Open Season, Dumbo, Jurassic Park, Zootopia, and many others . I also started to love animal shows like 64 Zoo Lane, Go, Diego, Go!, Stanley, My Gym Partner's A Monkey, Hero 108, Zoboomafoo, Deadly 60 and so on, I also loved animal video games like Zoo Tycoon 3, World of Zoo, Elmo's A to Zoo Adventure, Animal Crossing: New Leaf, Animal Crossing: Happy Home Designer, Animal Genius and others. I also loved animal books like Deadly Creatures Dictionary, Weird Animals Dictionary, Endangered Animals Dictionary, Predator Showdown, Dinosaurs VS Beasts, and others.
Likes
Keeping things clean
Making species lists
Making movie spoofs and remakes
Animal species
Being Intelligent
TV Show and Movie Characters
Asking animal questions (Honestly, I'm way too smart for that, and I have an intelligent personality.)
My Own Spoofs
Animation
Drawing
Having friends around
Documentaries
Dislikes
Candidates for deletion
Everything destroyed
Gay Shit (Homophobic much lmao)
Character deaths
Being called an asshole
Getting annoyed
False Information
Evil Dora
Animals With Boring Looks
Touching Someone Else's Spoofs
Letting People Touch My Spoofs Without Permission
Godzilla and SamuelGodzilla69 Telling Me To Edit His Spoofs
Animal Cruelty
Ugly things
Bad Stuff
Bullies
Liars
Sockpuppet Users (Formerly)
Wikis and Crossovers that I want to make in the Future
Favorite Species
Favorate Shows
64 Zoo Lane'
Tinga Tinga Tales
SpongeBob SquarePants
Teen Titans Go!
Dora the Explorer
Stanley (I have a crush on Stanley Griff and Dennis.)
Go, Diego, Go!
The Amazing World of Gumball
My Gym Partner's a Monkey
Steven Universe
Favorate Films
Madagascar
Finding Nemo and Finding Dory
Jurassic World
Ice Age
The Lion King
Zootopia
Inside Out (NOTE: Joy, Sadnees, Anger and Disgust I have a crush on, but Fear is annoying.)
The Secret Life of Pets
The SpongeBob SquarePants Movie
Favorate Animated Characters
Friends/Alies
Foes/Enemies
Owned Spoofs
Community content is available under
CC-BY-SA
unless otherwise noted.