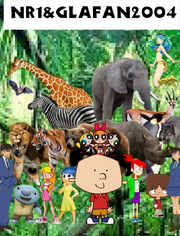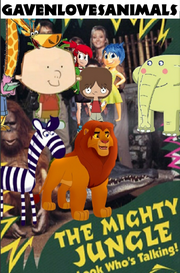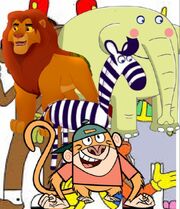 About Me:
Hello, everyone, I'm NR1&GLAfan2004, AKA the computer version of User:NatureRules1andStanleyxJoyFan2004 and an alarnte version of User:Gaven love's animals 2004, My companion, NR1&SXJF2004 (tablet version of me) is an admin who works on his phone, while for me, I'm going to work on my laptop. anyways, hope you'll like some info about me. I am a huge animal fan and loves animals and characters from around the world like you have never seen them before.
Hobbies
Making Spoofs (My Favorites)
Making Pictures (Usually or Sometimes)
Making Posters (For spoofs)
Watching Movies, Shows, Nature Documentaries and beyond
Goal
Working Here and becoming a zookeeper at the Cleveland Metroparks Zoo in Cleveland, Ohio.
Likes
Animals
Characters
Making Spoofs
Movies
Cartoons
Doccumentaries
Anime (Used to Hate It, But now adays, I like it.)
Ecology
Prehistory
Mythical Creatures
Dinosaurs
Extinct Animals
Sience Fiction
Zoology
Hates
Bullying
Lying
Making Mistakes (sometimes) (It's OK to make Mistakes Sometimes)
Animal Curelty
Poachers
Favorite Spoof Lists
Favorite Spoofs
Favorite Simba/Grizz & Friends Episodes
Friends
Enemies
Favorite Animals
Favorite Species
Modern
Mythical
Extinct
Favorite Couples
Billy x Mandy (The Grim Adventures of Billy and Mandy)
Blossom x Dexter (from The Powerpuff Girls and Dexter's Laboratory)
Danny Fenton x Sam Manson (from Danny Phantom)
Dipper Pines x Wendy Corduroy (from Gravity Falls)
Double D x Nazz (from Ed, Edd n Eddy)
Jack x Ashi (from Samurai Jack)
Lance x Ilana (from Sym-Bionic Titan)
Mac x Frankie Foster (from Foster's Home for Imaginary Friends)
Professor Utonium x Ms. Keane (from The Powerpuff Girls)
Star Butterfly x Marco Diaz (from Star vs. the Forces of Evil)
Wallabee Beatles x Kuki Sanban (from Codename: Kids Next Door)
Wirt x Beatrice (from Over the Garden Wall)
Stanley x Joy (from Stanley and Inside Out)
Leo x June (from Little Einsteins)
Lil' D x Madison (from Class of 3000)
Adam Lyon x Kerry Anderson (from My Gym Partner's a Monkey)
Brad Carbunkle x Jenny Wakeman (from My Life as a Teenage Robot)
Grizz x Chloe (from We Bare Bears)
Andrew Handbridge x Atsuko Kagari (from Hero Witch Academeia)
Simba x Nala (from The Lion King saga)
Kovu x Kiara (from The Lion King 2: Simba's Pride)
Kion x Rani (from The Lion Guard)
Zed x Nathalie (from 64 Zoo Lane)
Nelson x Mama Mirabelle (from 64 Zoo Lane and Mama Mirabelle's Home Movies)
Favorite Spoof Posters