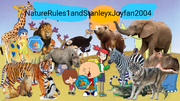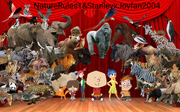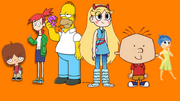 Hello, it's me, NatureRules1andStanleyxJoyfan2004 here, i used to be User:Gaven love's animals 2004, but its sad to belive he's gone. But you may call me, just plain old Gaven.
Basic Info
Date of Birth: 11/23/04 (November 23, 2004)
Likes: Animals, Characters, Stanley, Joy, making spoofs, NatureRules1, making posters, dinosaurs, extinct animals, OCs, DVDs, Video Games, Website Games, bases, drawing, characters as series
Dislikes: Getting angry, being impatient, wasted, getting globalled, sockpuppet abuse, rage, mental retardation, same things over and over, duplacates, forced to make requests, bothers, nusiances, bellybutton and other inapropriate pictures.
Favorite Animals
Favorite Couples/Ships
Stanley Griff x Joy (From Stanley and Inside Out)
Mac x Frankie Foster (From Foster's Home For Imaginary Friends)
SpongeBob SquarePants x Jenny Wakeman (From SpongeBob SquarePants and My Life as a Teenage Robot)
Nelson x Mama Mirabelle (From 64 Zoo Lane and Mama Mirabelle's Home Movies)
Adam Lyon x Kerry Anderson (From My Gym Partner's A Monkey)
Marco Diaz x Star Butterfly (From Star Vs. The Forces of Evil)
Peter Pan x Melody (From Peter Pan and The Little Mermaid 2: Return to the Sea)
Tommy Pickles x D.W. Read (From Rugrats and Arthur)
Boots x Lucy (From Dora the Explorer and 64 Zoo Lane)
Kion x Rani (From The Lion Guard)
Simba x Nala, Kouvu x Kiara, Mufassa x Sarabi & Scar x Zira (From The Lion King films)
Patrick Star x Princess Mindy (From The SpongeBob SquarePants Movie)
Manny x Ellie (From the Ice Age films)
Dumbo x Pinkie Pie (From Dumbo and My Little Pony)
Oh x Disgust (From Home and Inside Out)
Robin x Starfire (From Teen Titans saga)
Beast Boy x Raven (From Teen Titans saga)
Cyborg x Pearl (From Teen Titans saga and Steven Universe)
Gizmo x Jynx (From TTG saga)
George x Ursula (From George of The Jungle)
Boog x Ursa (From Open Season)
Elliot x Giselle (From Open Season)
Sherman x Penny (From Mr. Peabody and Sherman)
Janja x Shenzi (From The Lion King films)
Shane G x Eliza Thornberry (From The Wild Thornberrys)
Boko x Debbie Thornberry (From The Wild Thornberrys Movie)
Nigel x Marianne Thornberry (From The Wild Thornberrys)
Alex x Gia (From Madagascar)
Melman x Gloria (From Madagascar)
Marty x Kaya (From Madagascar)
Humphrey x Kate (From Alpha and Omega)
Jonnathan x Mavis (From Hotel Transylvania)
Wayne x Wanda (From Hotel Transylvania)
Jembo x Allivia (From Animal World)
Zip x Francine (From Animal World)
Dennis x Frances (From Stanley and Cats Don't Dance)
Marlin x Coaral (From Finding Nemo)
Nemo x Dory (From Finding Nemo and Finding Dory)
Bailey x Destiny (From Finding Dory)
Mr. Hornbill x Mrs. Tusk (From My Gym Partner's a Monkey)
Timon x Marlene (From The Lion King and The Penguins of Madagascar)
Terrence x Tinker Bell (From Disney Fairies (2008) saga)
Dexter x Blossom (From Dexter's Labrotory and The Powerpuff Girls saga)
Edd x Bubbles (From Ed, Edd and Eddy and The Powerpuff Girls)
Nigel Uno x Buttercup (From Codename: Kids Next Door and The Powerpuff Girls)
Shrek x Fiona (From Shrek Franchise)
Donkey x Dragon (From Shrek Franchise)
Homer Simpson x Marge Simpson (From The Simpsons)
Milhouse Van Houten x Lisa Simpson (From The Simpsons)
Bart Simpson x Jessica Lovejoy (From The Simpsons)
Nick Wilde x Judy Hopps (From Zootopia)
Branch x Poppy (From Trolls saga)
Peter Griffin x Lois Griffin (From Family Guy)
Caillou and Dora Marquez (From Cailou, Dora the Explorer and Goanimate)
Grizz x Chloe (From We Bare Bears)
Panda x Lucy (From We Bare Bears)
Ice Bear x Ranger Tabes- (From WBB)
Slips Python x Pipoca (From My Gym Partner's a Monkey and TickleU)
Franklin x Emily Elizabeth (from Franklin and Clifford the Big Red Dog)
Nicknames
Gaven (Actual name), (By FictionRulez, Mr. Crabmeat, Felipe, and Fgjoseph.)
NatureRules1 (Alarnte name) (By Josiah and BrattenA) (Note: I am a big NatureRules1 fan.)
Stanley X Joy (Second alarnte name) (Serenity)
Friends
Neutral
FANDOM Users
DavidPeartJr Backup (only when he asks me to do stomach/pedo pics, and gets angry)
Mr Josiah Vincent Olson J (Harrasing admins)
Enimies
All Sockpuppets
Some Fandom Users (for deleting the species lists from Disney Animals Wiki)
Voclids (They delete every SS spoof and turn it into a pile of Japanese girls.)
User:Oliviaplude (AND HER SOCKPUPPETS!!!) (THEY TRY TO HYJACK MY ACCOUNT!!!)
CutiePie657 (AND HIS SOCPUPPETS!!!)
Serenity666 (ANNOYING AS HELL AND EXTREME CHEATER!!!!!) (I'm also too old for this user, and he forces me to make Stanley x Joy spoofs on other wikis NOT related to Stanley x Joy, making ape noises and gone downhill, ans keeps saying "I'm sorry for being your enimie, i promise, i love you to death"!) IM SO DARN SICK OF THAT FOOL!!! And now he wants me to ship Bendy with George! (Even though George and Bendy ARE NOT a ship/couple, but there is such thing as George's wife, Ursula Scott., and he forces people to make GOTJ and ape noises!!!, She's also cheating on me, and stealing my name, and makes fake Spoofs that I HATE in the devil passion!!!)
Meda7 (ASSHOLE)
Wyattjoshua (VILLAIN)
Jessegaulien123 (FAGGOT)
Improstors
People who impersonize other users, even ME!
Jgaulien (Tried to kill me and getting revenge on me)
Bruclukas (yelling and requests to remake deleted parodies)
Davidpajir2 (Forcefull, annoying, ungreatfull, impatient, dumb, repetitive, requestor too much, quick piped, bad, vicious, rude, unnecessary, rude, ragefull, inapropriate, homo, pedophilic)
Future Shows and Movies me and my friends are working on
Posters
Community content is available under
CC-BY-SA
unless otherwise noted.