Hey, guys! Phase Awesomeness here. Since this is my first official blog on The Parody Wiki, I decided to highlight some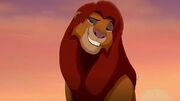 of the special parodies that will be upcoming in the next few months or so. Be warned…some of these get really epic, and there may even be some originals! Here are some of the "classics" I plan to work on.
The Lion King (Retold Fursthand)
Johnny Johnson, in a commentary-styled show with his friends Samson Maxwells, Reynold Michaels, Sapphire Shalom, Lilly the Wolf, Soarin the Pegasus, and Danielle Daniels the Fox, reimagines what The Lion King duology would look like if he and the rest of the original gang lived in Simba's world. Tough times, good friendships, fierce conflicts, important life lessons, and some really tense moments await them—all from the comfort of their own personal "movie theater".
Wreck-It Classified (Wreck-It Ralph)
Classified lives in an interconnected world with countless other furry characters from various games and movies. The problem? He's not a forefront kind of guy in his movie, unlike his best friend Soarin from My Little Pony. Classified longs to be more, and he'll do anything to get there and be recognized—until a trans-movie journey in the world of The Lion King and an encounter with a young Kiara (who is also trying to find her place) changes his perspective.
(Also, be on the lookout for the potential sequel: Classified and Kiara are heading to the Internet after this!)
Wolf-phoria (TAWOG - The Joy)
When Kovu and Rainbow Dash come down with the Tuesday blues, Joseph Jacobs the Winged-Wolf shares with the them the magic of a wolflike euphoria called Wolf-phoria. After the two start exhibiting wolfish traits and unusual optimism at work, Kovu's sister Vitani enlists the help of Thea Stilton and Classified in figuring out the problem. Meanwhile, best friends Princess Celestia and Simba try to figure out what going on behind the scenes; but when Kovu and Rainbow's happiness turn into a zombie-like outbreak of joy, Simba, Celestia, and the rest of the unaffected gang must find a way to stop Wolf-phoria before it contaminates everyone in Pandemonium City.
Community content is available under
CC-BY-SA
unless otherwise noted.