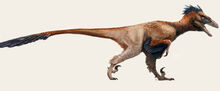 Utahraptor is a genus of theropod dinosaurs. It contains a single species, Utahraptor ostrommaysorum, which is the largest known member of the family Dromaeosauridae. Fossil specimens date to the upper Barremian stage of the early Cretaceous period.
Roles
Gallery
Books
 See Also
Walking With Dinosaurs: A Natural History
Community content is available under
CC-BY-SA
unless otherwise noted.