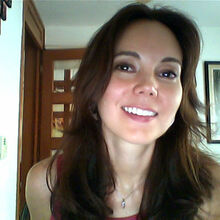 Silvia Vanessa Arvizu Garza
, better known as
Silvia Arvizu
,
Silvia Arvizu Garcel
,
Silvia Garcel
,
Silvia Garza
,
Silvia Vanessa Garcel
,
Vanesa Garcel
,
Vanessa Arvizu Garcel
,
Vanessa Garcel
, or
Vanessa Garza
(born on April 3, 1978 in Cuernavaca, Morelos, Mexico), is a Mexican voice actress and director. She is the daughter of Rubén Arvizu and Sylvia Garcel, the niece of Rocío Garcel and Jorge Roig, and cousin of Jorge Roig Jr. She was the executive director of Audiomaster 3000 (now defunct), a subsidiary company of Grupo Televisa.
Voices:
Rainbow Brite - Rainbow Brite
Uran/Sarah, Midori/Mindy, Nyoka/Niki/Nicky - Astro Boy (1980)
Fairfolk Little Boy #1 - The Black Cauldron
Jane Banks (1986 dub) - Mary Poppins
She-Ra: The Princess of Power (1985) - Loo-Kee 1 Episode), Additional Voices
He-Man & She-Ra in a Christmas Special - Miguel
Rini/Sailor Mini Moon (Episodes 60-65, Episode 198, & Movies) - Sailor Moon
Robyn Starling (speaking voice) - Tom and Jerry: The Movie
Sarah - Nick & Noel
Becky (Vanessa Lee Chester) - A Little Princess (1995)
Roxanne - A Goofy Movie
Flora (3 episodes in season 1) - Babar (Mexican re-dub)
Nurse Joy - Pokémon
Blossom (episodes 44, 45-49 in season 4) - The Powerpuff Girls
Audrey Rocío Ramirez - Atlantis: The Lost Empire
Community content is available under
CC-BY-SA
unless otherwise noted.