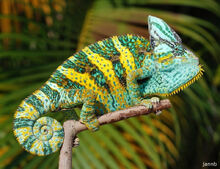 Veiled chameleons (Chamaeleo calyptratus) are one of about 80 species of Old World chameleons, also called true chameleons. They are aggressive and brightly colored. They have a casque, a helmet-like ridge, on top of their heads, which is a tiny swelling as a hatchling, but grows to two inches (5 cm) in height as the animal matures. As hatchlings, they are usually a pastel green, but as they mature they acquire bold bands of bright gold, green, and blue, mixed with yellow, orange, or black, that circle their body. The males are usually more strikingly colored than the females, which are usually shades of green mottled with shades of tan, orange, white, and sometimes yellow.
Roles
Gallery
Is a Crocodile a Reptile?
Books
Also See
Community content is available under
CC-BY-SA
unless otherwise noted.