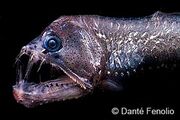 A viperfish is any species of marine fish in the genus Chauliodus. Viperfish are characterized by long, needle-like teeth and hinged lower jaws. A typical viperfish grows to lengths of 30 to 60 cm (12 to 23.5 in). Viperfish stay near lower depths (250–5,000 feet [80–1,520 m]) in the daytime and shallower depths at night, primarily in tropical and temperate waters. Viperfish are believed to attack prey after luring them within range with light-producing organs called photophores, which are located along the ventral sides of its body, and with a prominent photophore at the end of a long spine in the dorsal fin reminiscent of the illicium of the unrelated deepsea anglerfishes. The viperfish flashes this natural light on and off, at the same time moving its dorsal spine around like a fishing rod and hanging completely still in the water. It also uses the light producing organ to communicate to potential mates and rivals.
Gallery
Books
Community content is available under
CC-BY-SA
unless otherwise noted.