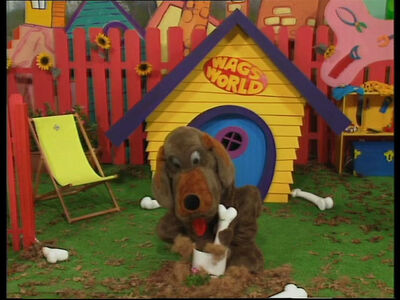 Wags the Dog is a tall, brown dog with floppy ears, a big nose and a big "W" on his chest. He is Captain Feathersword's best friend, and pet.
Costume Performers
Alex Harfield

(1995)

Jacqui Field

(1995)

Paul Paddick

(1996, 1998, 2013)

Donna Halloran

(1996)

Georgia Troy Barnes

(1996)

Edward Rooke

(1997-2000)

Paul Field

(1998)

Troy Johnston

(1999)

Cameron Lewis

(2000)

Andrew McCourt

(2001-2003)

Kristy Talbot

(2003-2007, 2009, 2011)

Adrian Quinnell

(2007, 2010-2012)

Mario Martinez-Diaz

(2008)

Karl Shore

(2010-2011)

Nicole Camage

(2011)

Kelly Hamilton

(2011, 2013)

Lachlan Gillespie

(2012-2013)

Nick Hutchinson

(2012-present)

Anthony Field

(2013)

Lauren Hannaford

(2013)

Dominic Field

(2014)
Voice Talents
Jeff Fatt (1995-present) - Space Dancing!, Hot Poppin' Popcorn, Celebration, Surfer Jeff, Taking Off

Mic Conway

(1999-present) - Big Red Car (Dance Party), Racing to the Rainbow, Let's Eat, Big Birthday

Paul Field

(2013-present) - Pumpkin Face, Go Santa Go! (Shared with Paul Paddick and Lachlan Gillespie),

Paul Paddick

(1997-present)

Lachlan Gillespie

(2014-present) - Go Santa Go! (shared with Paul Field and Paul Paddick), Wiggly Wiggly Christmas (2017)
Costume Models
Wags the Dog Through the Years
Gallery
Poses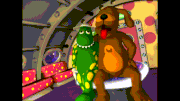 GIFs
See Also
Trivia
He was the last of the core group of four

Wiggly Friends

to be created, in 1993, although he wasn't an official Wiggly Friend until 1995.

Anthony Field

created him because he knew kids liked dogs.
Wags originally did not speak, instead communicating through barking. We're able to hear his thoughts in some episodes of

TV Series 2

, but Wags began speaking out loud in

It's Time to Wake Up Jeff

. Since then, he is sometimes portrayed as being able to speak, and other times simply barks as he originally did.
His appearances in the Stephen Squirrelsky and Friends' Movie Spoof Travels are The Forest Book 2 (TrainBoy43's Style), Nikki's Adventures of Sing Along Songs Episode 10, Madagascar (FamousImagination50's Style), Sleeping Beauty (Justin Quintanilla's Style), Aurorastasia, Despicable Me (Justin Quintanilla's Style), We're Back!: A Jungle Animal's Story, Jimmynocchio, and The Wizard of Oz (Uranimated18's Style) and will even be in more movie spoof travels.