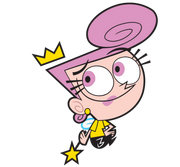 Wanda is a fairy from The Fairly OddParents.
Portrayals:
In

The Fairly Oddparents (1951Movies Style)

she is played by Buneary.
Gallery:
Trivia
Cosmo & Wanda are technically aliens, because they are both born in their own planet called "Fairyworld".
Her appearances in the Stephen Squirrelsky and Friends' Movie Spoof Travels are Despicable Me (Justin Quintanilla's Style), We're Back!: A Jungle Animal's Story, Jimmynocchio, and The Wizard of Oz (Uranimated18's Style) and will even be in more movie spoof travels.