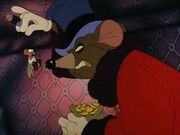 Warren T. Rat is a villain from An American Tail.
He is a sorcerer
He Played Simon Gruber In Cat Hard With A Vengeance (CoolZDane Animal Style)
He Is The Terrorists
He is the Snow Leopard
He is a Arabian guard
He played Old Jafar in Trampladdin
He is a creepy old man
He is a sheriff
He played Corey Tortellini in 

Oliver and Berlioz
He is a bully
He is a mole one of Fat Cat's gang
He is prince of the Northern Water Tribe
He is a mirror
He played Count Dooku in Star Wars (Baloo Tge BearFan360)
He is an old sixth lord 
He is a caterpillar
He is Gaston's sidekick
He played Sa'Luk in Basiladdin 3: The King of Thieves
He is murderer 
He is a maneless lion
He is a pirate
He is a Evil Emperor
He is a rat
He played Myo in Animation Star Wars
He is a catina patron
Portrayals:
In An American Tail spoof for Chris1702 he is played by ???.
Gallery: