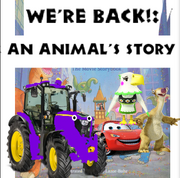 Smart Cartoon's Parody of We're Back!: A Dinosaur's Story.
Cast:
Rex - Farmmorker the Purple Amethyst Tractor (Big Bird's Road Trip)=(Voice Actor Reference)
Savage Rex - Chick Hicks (Cars)
Woog - Lightning McQueen (Cars)
Savage Woog - Sir Miles Alexroid (Cars)
Elsa - Celia (Animal Crossing)
Savage Elsa - The Big One (Jurassic Park)
Dweeb - Sid (Ice Age)
Savage Dweeb - Ian (Open Season)
Louie - Tommy Turnbull (Robotboy)
Cecilia Nuthatch - Lola Mbola (Robotboy)
Captain Neweyes - Nigel Thornberry (The Wild Thornberrys)
Vorb - Yakko Warner (Animaniacs)
Dr. Julia Bleeb - Granny (Loony Tunes)
Deinonychosaur - Humphrey (Alpha and Omega)
Professor ScrewEyes - Agent Trout (We Bare Bears: The Movie)
Stubbs the Clown - Jangles the Clown (Inside Out)
Buster the Baby Bird - Brick (The Powerpuff Girls)
Buster's Mother - Mrs. Keane (The Powerpuff Girls)
Buster's Father - Proffessor Utorium (The Powerpuff Girls)
Small dinosaur that Savage Rex chases - Mater (Cars)
Boy who wishes for a mustache - The Lorax
Twin girls with glasses - Princess Mindy (The SpongeBob SquarePants Movie) and Marina (Jake and the Neverland Pirates)
Girl who wishes that 'dinosaurs are to be here right now - Lucy (64 Zoo Lane)
Boy who wishes to see a Tyrannosaurus rex - Lincoln Loud (The Loud House)
Boy who wishes to see 'one of those flying dinosaurs' - Clyde (The Loud House)
Boy who wishes to see 'a plateosaurus' - Lil' D (Class of 3000)
Other girl who wishes to see dinosaurs - Madison (Class of 3000)
Meat butcher - Butch (Tom and Jerry)
Man who says 'Watch where you're going' - Santa Clause
Parade Leader - Rudolph (Roudolph the Red-Nosed Reindeer;1964)
Parade Band - Various Characters
Children watching Parade - Various Children
Sasha - Dorothy Ann Hudson (The Magic School Bus)
Sasha's Mother - Dora (Goanimate)
Man who shouts "Gosh! Real dinosaurs!" (after "Roll Back the Rock"; before the people scream and panic) - Fear (Inside Out)
Panicking people - Various Characters
Screaming people (after Rex says "Where is Central Park?") - Mayor (The Powerpuff Girls)
The police - Themselves
Man that Dweeb sees in Subway - Himself
Burglar with gun - Himself
Grocery sales clerk - Herself
Cat screeching from trash can - Cats (Stuart Little)
3 gothic looking people - Themselves
The Crows - Macaws (Rio)
Louie and Cecilia as Chimpanzees - Tickles and Giggles (64 Zoo Lane)
Stubbs dressed as a lion - Simba (The Lion King;1994)
Frightened Man blowing bubble gum - Himself
Elephants - Themselves (The Wild Thornberrys Movie)
the Two Hood-horned Women runs to the pyramid and unchained Elephants during the end of Act 1 - Blistina Utonium (The Powerpuff Girls)
Screaming man who wears glasses - Anger (Inside Out)
Screaming woman with hair coming off - ???
Louie in Monster Disguise - ???
Cecilia in Monster Disguise - ???
Stubbs in Alligator Disguise - ???
Mermaid holding American flag - ???
Richard (Mermaid's normal brother) - ???
Children at the Museum - ???
Theo (brown-skinned boy) - ???
Max (Child Rex meets at the Museum) - ???
Louie's Parents - ??? and ???
Cecila's Parents - ??? and ???
Scenes
We're Back!: An Animal's Story (Smart Cartoon) part 1 - Opening Credits/Honk and
We're Back!: An Animal's Story (Smart Cartoon) part 2 - Farmmorker's Story Begins/Brain Grain
We're Back!: An Animal's Story (Smart Cartoon) part 3 - Meet Night Thornberry/Wish Radio/The Things' Drop-off
We're Back!: An Animal's Story (Smart Cartoon) part 4 - Meet Tommy Turnbull/Welcome to New York
We're Back!: An Animal's Story (Smart Cartoon) part 5 - Tommy Rides on Celia/Meet Lola Mbola
We're Back!: An Animal's Story (Smart Cartoon) part 6 - "Roll Back the Rock (to the Dawn of Time)"
We're Back!: An Animal's Story (Smart Cartoon) part 7 - On the Run/Central Park
We're Back!: An Animal's Story (Smart Cartoon) part 8 - Meet Agent Trout
We're Back!: An Animal's Story (Smart Cartoon) part 9 - Fright Radio/Brain Drain
We're Back!: An Animal's Story (Smart Cartoon) part 10 - Tommy, Lola and Jangles
We're Back!: An Animal's Story (Smart Cartoon) part 11 - Agent Trout's Show
We're Back!: An Animal's Story (Smart Cartoon) part 12 - Nigel Thornberry Returns/Jangles Resigns/Agent Trout's Demise
We're Back!: An Animal's Story (Smart Cartoon) part 13 - The Museum of Natural History/A Happy Ending
We're Back!: An Animal's Story (Smart Cartoon) part 14 - End Credits
Gallery