Wendy Moira Angela Darling is a cute, sweet, and very beautiful 12 years old—main female character from Peter Pan.
Voice Actors
Kathryn Beaumont (1953-2005)
Hynden Walch (2005-present)
Harriet Owen (young, Return to Never Land)
Kath Soucie (adult, Return to Never Land)
Kathryn Cressida (briefly)
America Young (In Tinker Bell)
Maia Mitchell (in Jake and the Never Land Pirates)
Roles
She is a mermaid
She is a Girl
She is a sea witch in disguise
She is a Farm Girl
She is an Arabian Princess
She is one of the bird kids
She is a Lioness
She is a Princess
She is a human servent
Wendy played as Elephant Matriarch in Roo (Dumbo)
She is a Lady Elephant
She is Flower's girlfriend
Wendy played as Lady Kluck in Wart Hood
She is a Hen
She is a princess
She is an Indian
She is an Arabian Girl
Wendy played as one of The Genie's Three Dancing Girls in Wartladdin
She is a Harem Girl
She is a Fire Nation Noble
She is a Kangaroo
She is Cinderella's Younger Cruel Stepsister
Wendy Played One of the Three Beckys in Mew Mew Disney
Wendy Played as Terk in Dimitrizan
She is a young gorilla
She is a Girl
She is one of Maleficent's daughters
She is a fraggle
She is a wolf
She is a Pegasus pony
She is Francine's Friend
She is a recurring role
She is Max's Girlfriend
She played Emmy in Cat Tales
She is a snake
She played Gnatty in Soleillina
She is a recurring role
She is a Mouse
She Played May In

Pokemon Advanced Generation (400Movies Animal Style)

And

Pokemon Advanced Generation (1983Movies Style)
She is a mermaid
== She played Mrs. Forcible in Joy (Coraline)
Portrayals
Gallery: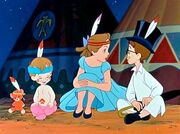 Trivia
Wendy's facial features are extremely similar to Alice from

Alice in Wonderland

. It makes sense because her film movements and voice were taken from Kathryn Beaumont.
Wendy's name comes from one of

J.M. Barrie

's friends in adulthood, Margaret Henley who died at age five-and-a-half. She called him her "friendy," which came out pronounced "fwendy".
In some Disney storybooks Wendy's nightgown and hair tie are pink instead of blue.
While most illustrations of Wendy show her and her brothers as being barefoot, the Disney version is the only one that depicts her with shoes. However, she was seen barefoot for a split-second when Peter Pan arrives at the nursery to get his shadow back.
Most illustrations and depictions of Wendy show her wearing nightgowns that have long sleeves;

the Disney movie

and

Once Upon a Time

are the only two known versions that have her doing so.
Despite not making an appearance in

Kinect Disneyland Adventures

, Wendy is mentioned several times by Peter Pan.
Kathryn Beaumont was originally supposed to reprise her role as Wendy in Return to Neverland, but for unknown reasons, she was replaced by Kath Soucie.
Wendy's nightgown has been turned into an actual sleepwear for girls numerous times to promote the film.
Her appearances in the Stephen Squirrelsky and Friends' Movie Spoof Travels are Madagascar (FamousImagination50's Style), Sleeping Beauty (Justin Quintanilla's Style), Aurorastasia, Despicable Me (Justin Quintanilla's Style), We're Back!: A Jungle Animal's Story, Jimmynocchio, and The Wizard of Oz (Uranimated18's Style) and will even be in more movie spoof travels.