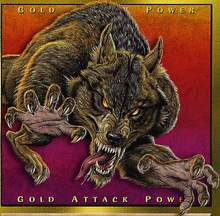 A werewolf, man-wolf, or lycanthrope is a mythological or folkloric human with the ability to shapeshift into a wolf or a therianthropic hybrid wolf-like creature, either purposely or after being placed under a curse or affliction. The werewolf is a widespread concept in European folklore, existing in many variants, which are related by a common development of a Christian interpretation of underlying European folklore developed during the medieval period. From the early modern period, werewolf beliefs also spread to the New World with colonialism. Belief in werewolves developed in parallel to the belief in witches, in the course of the Late Middle Ages and the Early Modern period. Like the witchcraft trials as a whole, the trial of supposed werewolves emerged in what is now Switzerland in the early 15th century and spread throughout Europe in the 16th, peaking in the 17th and subsiding by the 18th century.
Roles
Gallery
Also See
Community content is available under
CC-BY-SA
unless otherwise noted.