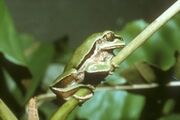 The West Cameroon forest tree frog, (Leptopelis nordequatorialis), is a species of tree frog in the family Arthroleptidae found in Cameroon and Nigeria. Its natural habitats are subtropical or tropical high-altitude grassland, swamps, freshwater marshes, intermittent freshwater marshes, freshwater springs, and pastureland.
Gallery
See Also
Community content is available under
CC-BY-SA
unless otherwise noted.