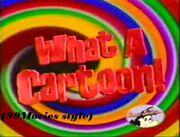 399Movies' TV-spoof of What a Cartoon (1995). It will appear on YouTube in the near future.
Cast:
Blossom - Angel (Lady and the Tramp 2: Scamp's Adventure)
Bubbles - Diana (Sailor Moon)
Buttercup - Abby Mallard
Mrs Keane - Amber (Scooby Doo and the Alien Invaders)
Fuzzy Lumpkins - Steele (Balto)
Dexter - Ron Stoppable (Kim Possible)
Dee Dee - Dawn (Pokemon)
Mom - Herself
Johnny Bravo - Basil (The Great Mouse Detective)
Cow - Rebecca Cunningham
Chicken - Thomas O Malley (The Aristocats)
The Devil - Edgar (The Aristocats
Courage - Tom Sawyer (Tom Sawyer)
Muriel - Serena/Sailor Moon
Eustace Bagge - Darien/Tuxedo Mask (Sailor Moon)
Larry - Carl Fredricksen (Up)
Steve - Dug (Up)
Fred Flintstone - Ash Ketchum (Pokemon)
Dino - Charizard (Pokemon)
Gramps - Trusty
Boy - Scrappy
Girl - ???
Episodes:
Meat Steele
Change
The Chiken
See Also:
Gallery:
Community content is available under
CC-BY-SA
unless otherwise noted.