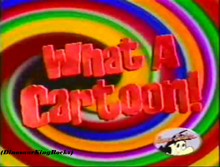 DinosaurKingRockz's TV-spoof of What a Cartoon (1995). It will appear on YouTube in the near future.
Cast:
Blossom - Lita/Sailor Jupiter (Sailor Moon)
Bubbles - Dawn (Pokemon)
Buttercup - Zoe Drake (Dinosaur King)
Dexter - Max Taylor (Dinosaur King)
Dee Dee - Eliza Thornberry (The Wild Thornberrys)
Dexter's Mom - Aki Taylor (Dinosaur King)
Johnny Bravo - Ash Ketchum (Pokemon)
Louie - Danny (Cats Don't Dance)
Elmo - Tiger (An American Tail)
Cow - Raye/Sailor Mars (Sailor Moon)
Chicken - Fievel Mousekewitz (An American Tail)
Red Guy - Merlock (DuckTales the Movie: Treasure of the Lost Lamp)
Courage - Roo (Winnie the Pooh)
Gramps - Pacha (The Emperor's New Groove)
Boy - Mowgli (The Jungle Book)
Girl - Melody (The Little Mermaid 2: Return to the Sea)
Larry - Doc (Snow White and the Seven Dwarfs)
Steve - Courage (Courage the Cowardly Dog)
Episodes:
See Also:
Trivia:
Gallery:
Community content is available under
CC-BY-SA
unless otherwise noted.