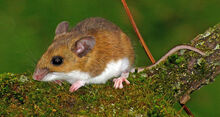 The white-footed mouse (Peromyscus leucopus) is a rodent native to North America from Ontario, Quebec, Labrador, and the Maritime Provinces (excluding the island of Newfoundland) to the southwest United States and Mexico. In the Mari-times, its only location is a disjunctive population in southern Nova Scotia. It is also known as the wood mouse, particularly in Texas. Adults are 90–100 mm (3.5–3.9 in) in length, not counting the tail, which can add another 63–97 mm (2.5–3.8 in). A young adult weighs 20–30 g (0.7–1.1 oz). While their maximum lifespan is 96 months, the mean life expectancy for the species is 45.5 months for females and 47.5 for males. In northern climates, the average life expectancy is 12–24 months. White-footed mice are omnivorous, and eat seeds and insects. It is timid and generally avoids humans, but they occasionally take up residence in ground-floor walls of homes and apartments, where they build nests and store food.
Roles
Gallery
Books
See Also
Community content is available under
CC-BY-SA
unless otherwise noted.