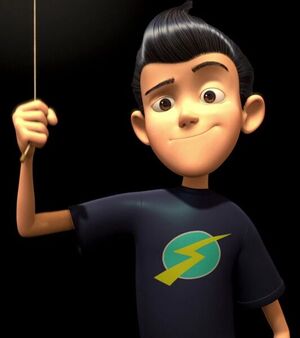 Wilbur Robinson is the son of Franny and Lewis "Cornelius" Robinson and the deuteragonist of the 2007 animated film, Meet the Robinsons. He is 13 years old.
Peter Benjamin Parker, also known as the superhero Spider-Man, is an ordinary high school student; until an investigation at Oscorp led to him being bitten by a genetically modified spider.
Originally played by Andrew Garfield.
Suits he wears as Spider-Man:
He played Adult Simba in The Robinson King
He played Danny in Robinsons Don't Dance
He played Hercules in Wilburcules
He played Tarzan in Wilburzan
He played Shang in Tiffanylan
He played Prince Eric in The Little Mer-Older Sister
He played Dimitri in Tiffanytasia
He played Prince Cornelius in Tiffanylina
He played Jim Hawkins in Treasure Planet (Dragon Rockz Style)
Portrayals:
In

Meet The Robinsons (TheBluesRockz Style)

he is played by ???.
Voice Actors
Gallery:
Relatives