Winston is a major character in Alpha & Omega. He is the husband of Eve, the father of Kate and Lilly, the maternal grandfather of Stinky, Claudette & Runt and the father-in-law of Humphrey & Garth.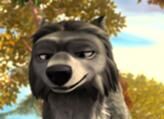 He is a lion
He is a Sea king
He is the king of thieves
He is a viking chieftain
As Ki-Adi-Mundi in Animation Star Wars
He is an alien Jedi master
As Colonel Hathi In The Mobius Book
he is an elephant
He is the inventor
He is a gorilla
He is a gungan
As Cinderella's Father in Katerella
He is a Great White Shark
Gallery
Portrayal
Alpha & Omega (PrinceBalto Style)- Winston played by Bagheera
Ralefives
Wife-Eve
Daughters - Kate and Lilly
Sons in Law - Humphrey and Garth
Grandsons - Stinky and Runt
Granddaughter - Claudette
Granddaughters in Law - Star and Dori
Grandson in Law - Jared
Brother in Law - Tony
Community content is available under
CC-BY-SA
unless otherwise noted.