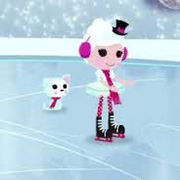 Winter Snowflake is one of Lalaloopsy Land's biggest enthusiasts for all things wintery and snowy! She likes making snowballs and inviting her friends over for snow cones. Her favorite day is a snow day and cold weather arms her heart. Her name comes from her favorite season - as well as the magnificent flakes that form from the snow!
About Winter
Appearance
Winter is a fair skinned girl with black button eyes and very pale pink cheeks. Her hair is pure white flock with very curly, intricate bangs while her hair is pulled in three bunches that may be snowballs or scoops of ice cream. She wears a pink pair of earmuffs and a small black top hat with pink bow on the corner of her head.
Her outfit is very simple and consists of a white ballerina-styled dress with tulle skirt and two small black buttons. She also has a red, pink, and white striped scarf and a pair of red pantyhose with tiny white polka dots. Her boots are black with white markings all over them.
Pet
Winter's pet is a little husky. It has matching eyes and cheeks, and two pointed ears with the right one flopping over. Its body is a very pale shade of blue and it wears a soft pink scarf.
Home
Winter lives in her own personal winter wonderland. Her house is built with blocks of stacked ice. While chilly, the house is wrapped tightly by a striped scarf around the foundation. Her door and window shutters are a jolly red with snowflakes painted on them. The house has round icy blue shingles on the roof.
Around her yard she has many Christmas trees wrapped in scarves, various snow cones sticking out of the ground, and piles of snowballs - as well as a friendly Snowman in the front yard to greet her friends.
Trivia
January 18th is World Snowman Day.
She is the only doll with a snowball bun.
Winter was introduced along with Peggy Seven Seas.
Gallery
Main article: Winter Snowflake/Gallery