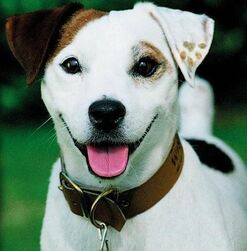 Wishbone is the main protagonist, narrator, and titular character of the PBS series Wishbone.
Wishbone is a Jack Russell Terrier owned by Joe Talbot.
He is voiced by Larry Brantley and portrayed by a dog named Soccer.
Personality
Wishbone has a amazing wealth of reading knowledge he is friendly, playful, clever, witty, intelligent, optimistic, and adventurous. Most of the time, Wishbone sees his owner Joe and friends face certain dilemmas, sometimes mischief, and compares them to classic stories, where he mostly envisions himself as the main character in the Story.
In his normal contemporary life, his voice is only heard by the audience. However, oddly in the classic literature stories, everyone else can hear him, and act as if he is a human.
Appearance
Wishbone is a small white Jack Russell Terrier with a brown patch on his left eye, small brown spots on his left ear, a brown patch on his right ear, and a black spot on his back.
Quotes
""Nobody ever listens to the dog.""
―Wishbone
Gallery