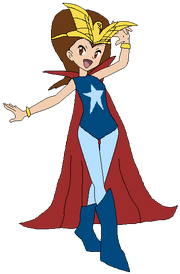 Wonder Milly is a super heroine from another dimension. She was first debut in Wonder Milly from Rosemary Hills.
Voice Actors:
Emma Caulfield - English
Kotono Mitsuishi - Japanese

Christine Bellier

- Canadian French

Marie Vincent

- European French
Appearance:
She is shown as a superhero with a golden eagle crown on her head, an American Flag outfit with one star and a cape.
Personality:
She is known as brave, daring, heroic, courageous, and fearless.
Quotes:
Wonder Milly:
Wonder Milly to the rescue! (her catchphrase)
Rosemary Hills 5: Operation - Rescue Milly:
Milly, you're not a party pooper. You're the leader of Rosemary-Land. You... are... my friend! (trying to convince Milly to come home)
Portrayals:
Gallery: